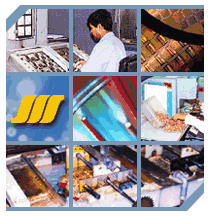 Showa Electronics & Supply Sdn Bhd
-was incorporated on the 10
th
October 1988, offering the highest quality Contract Manufacturing in electronics assembly. Our total customer satisfaction is achieved through teamwork, effective communication, defect-free products delivery, continuous product improvement and with just-in-time manufacturing.
Our goals are to develop a long term business partnership with technological driven companies by providing efficient, reliable and economical services besides establishing an intense focus on customer needs and expectations.
Our systematic approaches have added value to our customers manufacturing process by cost reduction, higher quality and on time delivery with the ever changing markets.
All these values are supported by our team of well-trained, professionally qualified and quality conscious employees. Back by our years of experience as electronics industries' Contract Manufacturer, Showa Electronics has becomes a leader in this field regionally.
Personalized service and attention to each and every project is practise in Showa. The results of our superior understanding can be evaluated in our flexible manufacturing systems, through highly skilled staff, efficient materials management and our commitment to quality. We understand the importance of quality and on time delivery and we follow a model that maximizes both while compromising neither.
Vacuum Forming Tray/ Packing Material Division
An independent division of Showa Electronics & Supply Sdn Bhd established in 2001. We supply Vacuum Forming Tray and others packaging material for electronics, plastic injection, stationeries and food industries.


Capabilities for Vacuum forming Tray :
We can supply Tray in PVC,PS,PP,APET,PETG materials with antistatic or non-antistatic.

Capabilities SMD Taping ( Reel Packing )
We can serve 12mm, 16mm and 24mm width Taping service in any customize pocket size. Rapid turnaround within 24hours is able to achieve.